Helga Paris, Photographer
8 November 2019 – 12 January 2020
Akademie der Künste, Pariser Platz 4, 10117 Berlin
Exhibition opening: 7 November, 7 pm
with Jeanine Meerapfel (President of the Akademie der Künste), Dr Klaus Lederer (Berlin Senator for Culture and Europe), Dr Ellen Strittmatter (ifa, Institut für Auslandsbeziehungen), Inka Schube (curator)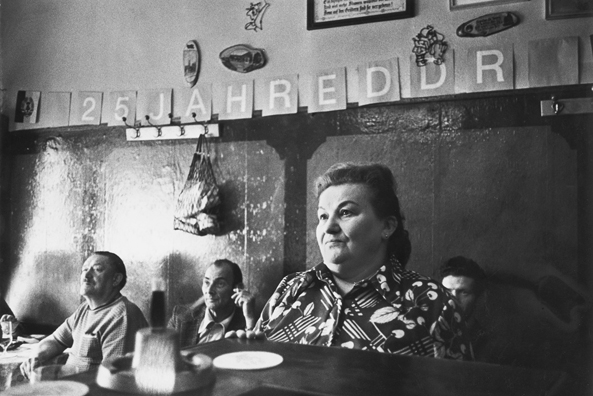 Helga Paris, from the Berliner Kneipen series, 1974. Photo © Helga Paris. Source: ifa (Institut für Auslandsbeziehungen)
From 8 November 2019 to 12 January 2020, at its exhibition halls at Pariser Platz, the Akademie der Künste will present the photographic work of Helga Paris from 1968 to 2011. With 275 works, including many individual images and series that are to be shown for the first time, this will be her most comprehensive exhibition to date and the first retrospective of the artist in her home city of Berlin in 25 years. Among others, excerpts from the extensive Leipzig, Hauptbahnhof (1978), Moscow (1991/92) and Mein Alex (2011) series will be seen for the first time.
Helga Paris was born in 1938 in the Polish town of Gollnow (today Goleniów) and grew up in Zossen near Berlin. She began her work as a self-taught photographer in the 1960s. She became one of the key chroniclers of life in East Berlin with images of her neighbourhood in the Berlin district of Prenzlauer Berg, pictures of pub-goers, sanitation workers, the women from the VEB Treffmodelle clothing factory, artists, punks, children from Hellersdorf and passers-by from Alexanderplatz.
Helga Paris also took photographs in Transylvania (1980), Georgia (1982) and in the city of Halle (1983–1985), where she produced her Diva in Grau series that was not allowed to be shown until 1989/90, as well as in Volgograd (1990), New York (1995) and Poland (1996/97), among others.
An exhibition of the Akademie der Künste in cooperation with the ifa (Institut für Auslandsbeziehungen), supported by DEFA Stiftung. Our thanks also go to the Alfried Krupp von Bohlen und Halbach Stiftung, which provided the access to the archive material of Helga Paris and to reprint three previously unpublished series.

Käthe Kollwitz Prize 2020. Timm Ulrichs

24 January – 1 March 2020
Akademie der Künste, Hanseatenweg 10, 10557 Berlin
Award Ceremony and Exhibition Opening: 23 January 2020, 7 pm
With Timm Ulrichs (prize winner), Jeanine Meerapfel (President of the Akademie der Künste), representative of the Kreissparkasse Köln (welcoming address), Peter Weibel (ZKM | Center for Art and Media Karlsruhe, laudatory address)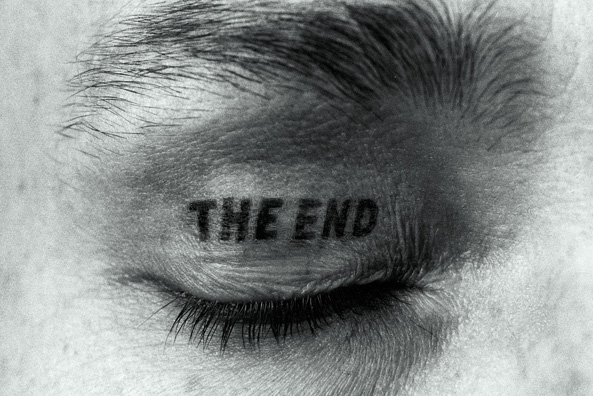 Timm Ulrichs: THE END. Eyelid tattoo, 1970/16 May 1981. Document of a tattoo action by Horst H. Streckenbach, Samy's Tatoo Studio, Frankfurt a. M., 16 May 1981. Photo: Foto-Hoerner, Hannover. © VG Bild-Kunst, Bonn 2019
Far from the centres of the art world, Timm Ulrichs works tirelessly as a self-appointed 'total artist' in a wide range of genres. With his vast wealth of ideas, he doesn't pursue a uniform concept, but instead seeks originality in each individual idea, creating his very own encyclopaedia of ideas in the process. The sheer mass and diversity of these manifold ideas is unprecedented. Ulrichs is an artist, a former university lecturer and a critical observer of the art scene who has led a non-conformist existence beyond the mainstream and outside of the art market.
In 1959 Ulrichs founded the "Werbezentrale für Totalkunst, Banalismus und Extemporismus" (Advertising Centre for Total Art, Banality and Extemporalism) in Hanover, with the aim of promoting the dissemination, development and production of total art; in 1961 he declared himself to be "the first living artwork". This was followed by a public "self-exhibition" in Frankfurt am Main in 1966, the founding of an "art practice (office hours by appointment)" in 1969, and the first total art retrospective in Krefeld in 1970. In 1977, he represented his radical position as a participant of the documenta 6 in Kassel. His œvre comprises conceptual work, object art, environments, performances, multimedia work and concrete poetry.
In the year of his 80th birthday, the Berlin-born artist will be awarded the 2020 Käthe Kollwitz Prize to honour his life's work, which to this day represents a treasure trove of creativity and a source of inspiration for generations of artists who came after him.
With the kind support of the Cologne Kreissparkasse which funds the Käthe Kollwitz Museum in Cologne.
Scroll